Long Night of Sciences 2019: A Review
News from Jun 20, 2019
The HCC group participated at the Long Night of Sciences 2019 at Freie Universität Berlin and presented some projects including two ongoing research projects, two software projects developed as part of the Courses Software Project: Tangorithm - Interaction with learning Algorithms and Data Visualization and a workshop.
Visitors had the opportunity to have an insight of the Innovonto/Ideas-to-Market research project. This project focuses on the developement of tools to recognize patterns within large numbers of ideas. Maximilan Mackeprang presented the Kaleidoskope prototype and visitors could experience the software.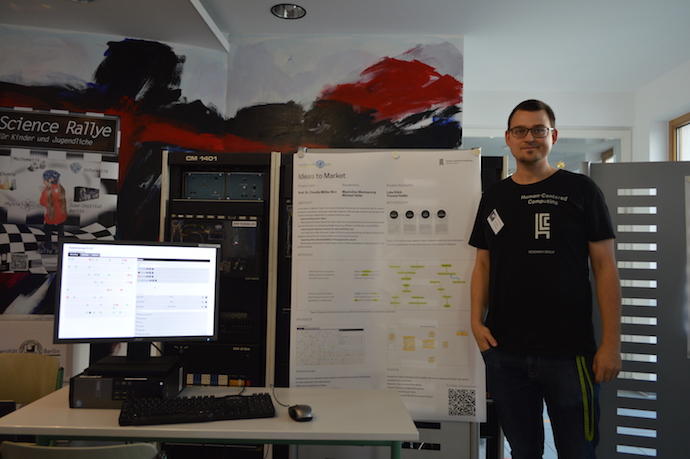 The IKON project presented by Jesse Josua Benjamin and Christoph Kinkeldey showed their prototype in an interactive way. What do you want to know when you inform yourself about the activities of a research institution? With the interactive visualization they enable new perspectives on research activities and the geraration of knowledge at the Museum für Naturkunde.
The student software project Tonari was developed at the Software Project: Tangorithm - Interaction with learning Algorithms (a cooperation of Freie Universität Berlin and Weißensee Kunsthochschule Berlin). To help finding wheelchair accessible sanitary facilities nearby, Tonari displays all surrounding entries sorted by distance from the users current location. At the event visitors could see the possibilities of the app for themselves. It was presented by André Schröder, Anna Schapiro and Niclas Schwarzlose.
Another student project developed in the the Course Data Visualization was the Potential Fields Method. Till-Julius Krüger and Michael Pluhatsch presented the algorithm. Path planning with potential fields is an algorithm from robotics. The algorithm plans a path to a target for a robot. Collision with obstacles is avoided.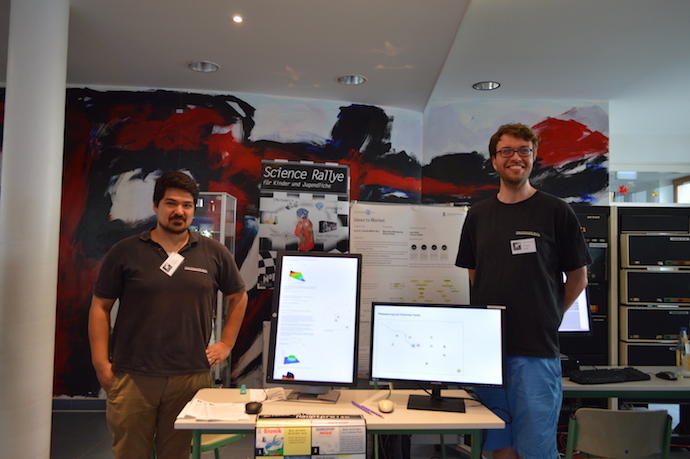 In a seperate room the workshop Bits & Beats was held by Hong Zhu and Thomas Hadler. In this Do-It-Yourself-Workshop it was worked on a practical and interactive insight into the connection between hardware and software. The participants used a microcontroller to build a musical instrument and saw how many devices in our lives that we consider simple actually harbor a complex inner life.