Profile and Structure (old regulations, 2012)
General Information on the Degree Program
Study and Examination Regulations
Please note: Solely the German version is legally binding.

The provisions of the then-applicable study and examination regulations apply.
Profile of the Master's Degree Program in Bioinformatics

Standard program duration: 4 semesters

Credits: 120

Language of instruction: English (international program)

Examinations are administered during the program

Academic degree awarded: Master of Science (M. Sc.)

This study program prepares graduates to work in research
Limited admissions
Educational Objectives
Knowledge of the main issues in modern bioinformatics and of the associated mathematical, computer science, and biomedical bases
Independent analysis of problems in bioinformatics by means of different methodological approaches as well as development of solutions in an interdisciplinary context
Enabling students to engage in independent research and development activities in the field of bioinformatics
Preparation for a subject-specific leadership role in a corresponding industrial sector or for further academic qualifications as part of a doctorate
Program Content
Bioinformatics research in medicine and the biological sciences is increasingly based on analysis and interpretation of biological mass data. The use of computers, combined with accurate mathematical models and efficient algorithms, is indispensable in this process. Building on the bachelor's degree program in bioinformatics, this program offers an advanced education in the corresponding subfields of mathematics, computer science, biology, and medicine. This gives students the necessary knowledge and skills to identify relevant biological issues, develop appropriate mathematical or computer science solutions to approach them, and interpret the results correctly in a biological context.
Students learn the content and working methods of research-oriented areas of study. Alongside subject-specific knowledge and skills in bioinformatics, they also gain interdisciplinary skills and key qualifications with an eye to later research activities or management roles.
Structure and Organization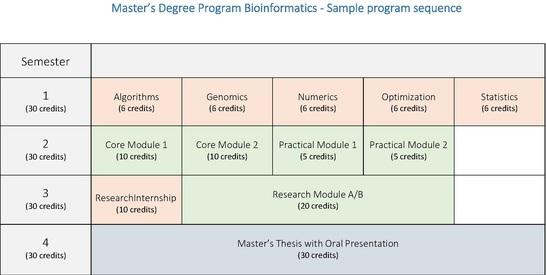 SUMMARY - (For detailed information please click on the links)
Required Area (40 credits)
Required Modules: (students must complete all modules)
Algorithms (6 credits)
Genomics (6 credits)
Numerical Mathematics (6 credits)
Optimization (6 credits)
Statistics (6 credits)
Research Internship (10 credits)
Core Modules: (students must complete two of these)
Biodiversity and Evolution (10 credits)
Medical Bioinformatics (10 credits)
Network Analysis (10 credits)
Physiology (10 credits)
Sequence Analysis (10 credits)
Structural Bioinformatics (10 credits)
Practical Modules: (students must complete two of these)
Current Issues in Cell Physiology (5 credits)
Applied Sequence Analysis (5 credits)
Measurement and Analysis of Physiological Processes (5 credits)
Computer-Assisted System Biology (5 credits)
Environmental Metagenomics (5 credits)
Current Issues in Medical Genomics (5 credits)
Current Issues in Structural Bioinformatics (5 credits)
Research Modules: (students must complete one of these)
Research modules consist of research-oriented courses, which students must choose from
among the then-current offerings.
Research Module A (two lectures with exercises, one seminar, project paper, 20 credits)
Research Module B (one lecture with exercise, two seminars, project paper, 20 credits)
Master's Thesis with Oral Presentation (30 credits)
If you have any general questions concerning the stucture and organization of the study program please contact the course coordinator or the examination office.