IT-Services::Windows - Starting Java Applications despite error message (>=Java8)
Because of new security guidelines of Java many Java Applets can't run anymore. Here you can read how it will work again.
Errormeldung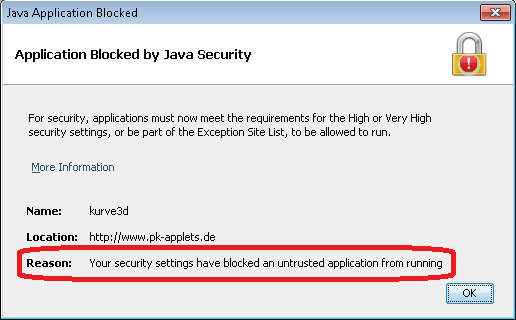 Adding an exception
Open the Windows Control Panel (Start -> Control Panel)
Change the View to "Small icons" if not already happened
Open the "Java" Settings

In "Java Control Panel" change to tab "Security"
To add exceptions from high security click on "Edit Site List"

Copy the URL of the Website till the first "/" (!!!) into the Exceptions List and choose "Add"

Confirm the warning message with "Continue"
Confirm all open Windows with "OK"
Close your browser, start it again and load the Website with the Java Applet
Activate the Applet with a click on "Activate Java Platform SE 8 U" and allow the execution as your need
Now you see a warning message instead of an error message. After confirmation the applet will run.