Mathematical Geometry Processing
We analyze digital geometric shapes and develop a broad spectrum of new mathematical concepts in discrete and continuous differential geometry, numerical optimization, and mathematical visualization.
In various industrial cooperations we work on key problems in reverse engineering and digital geometry processing. We develop powerful software libraries for industrial applications and mathematical teaching.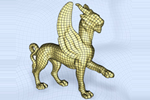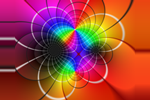 ---
News from our recent Spin-off companies
QuadCover
remeshing any object for any application 
Der Bedarf an Automatisierung in der weltweit produzierenden Industrie hat in den vergangenen Jahren stark zugenommen. Durch beinahe alle Branchen hinweg versuchen Unternehmen interne Prozesse zu verbessern, um Zeit und Kosten zu sparen und dadurch wettbewerbsfähig zu bleiben. Besonders die Entwicklung von sicherheitsrelevanten Produkten passiert zunehmend computergestützt (CAE, Computer Aided Engineering), bevor sie in Serienproduktion gehen. Dabei wird nicht nur das Design untersucht, sondern auch physikalische Eigenschaften simuliert und verbessert. Aber obwohl die mathematisch komplexen Computersimulation den Ingenieuren viel Arbeit abnehmen, sind in der Praxis, besonders in der Vorverarbeitung zur CAE Simulation, immer noch viele Schritte von Handarbeit geprägt.
---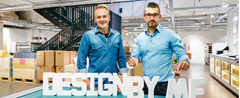 DesignBy.Me UG
Mit neuen Algorithmen zum eigenen Design
Schnürschuh, High Heel oder Ballerina? Lack, Nappa oder Velours? Gold, Meerblau oder Funghi? Jede modebegeisterte Frau hat sich schon mal gewünscht, ihr Traumpaar selbst zu gestalten. Allein in Deutschland geben bereits mehr als 500 Unternehmen ihren Kundinnen und Kunden die Möglichkeit, im Internet ein eigenes Produkt zu entwerfen und zu bestellen.
---

trinckle 3D
Einfach 3D-drucken
Werden wir unsere Sonnenbrillen, Spielwaren oder Schmuck in Zukunft selbst gestalten und ausdrucken? Marlene Vogel, Gunnar Schulze und Florian Reichle arbeiten daran, dass diese Vision Wirklichkeit wird. Unterstützt werden sie dabei von Konrad Polthier, Professor am Fachbereich Mathematik und Informatik der Freien Universität Berlin. Im Rahmen eines EXISTGründerstipendiums haben die Physikerin, der Physiker und der Diplom-Kaufmann die Online-Plattform trinckle 3D entwickelt, die einfachen und schnellen Zugang zum 3D-Druck bietet [...]
---

Laubwerk GmbH
Digitale Botanik für digitale Architektur und Filme
Laubwerk – so könnte auch eine Baumschule heißen. Tatsächlich produzieren Philip Paar und Timm Dapper Bäume. Diese bestehen allerdings aus Rechenoperationen, denn es sind computergenerierte 3D-Pflanzen, die zum Beispiel von Architekten und Landschaftsarchitekten für Visualisierungen eingesetzt werden. Auch in den digitalen Welten von Filmen und Computerspielen soll das Grün immer raffinierter und realistischer aussehen, denn die Ansprüche der Zuschauer steigen.