mPOLIKS - The Mobile Information System of the Berlin Police
---

The Freie Universität Berlin and the Berlin Police Department are cooperation partners since 2006. Within this cooperation we are evaluating secure approaches for mobile data access to police records.
The objective of the project mPOLIKS lies in the design and implementation of a mobile solution to access the internal police information system. mPOLIKS is based on standard protocols and hardware, which reduce costs and complexity. The system runs on Windows Mobile devices.
---
Die Freie Universität Berlin und die Berliner Polizei sind bereits seit 2006 Kooperationspartner. Innerhalb dieser Kooperation evaluieren wir sichere Verfahren für den mobilen Zugriff auf polizeiliche Fahndungs- und Meldedaten.
Das Ziel des Projektes mPOLIKS liegt im Design und der Erstellung einer mobilen Lösung für den Zugriff auf das polizeiliche Auskunftssystem. Dabei werden standardisierte Protokolle und Hardware verwendet, um Kosten und Komplexität zu minimieren. Zum Einsatz kommen auf Windows Mobile basierende Endgeräte.
---
The Berlin police department uses the Poliks system, which stands for police information, communication and processing service. Poliks was created to facilitate suspect identification and centralize police data. mPOLIKS has to fulfill the requirements on security and reliability, which is more challenging in mobile scenarios. A shared medium as well as mobile, theft-prone devices complicate a trustworthy access. Furthermore, mPOLIKS should introduce additional benefits based on the paradigm of mobile technologies.
mPOLIKS should establish a secure communication channel between the mobile device and the network of the Berlin police department. In case of device loss, it should protect sensitive information. A simple, lightweight embedding in the existing infrastructure is needed without introducing additional, significant costs. Complex real-world use cases require a simple and robust user interface.
---
In addition to access control for users/devices, and a logging scheme, the following security concepts have been implemented:
Data Transmission
Message-based encryption
Signature to verify integrity and authenticity
Time-stamp against replay attacks
Protection Mechanisms in Case of Device Loss
Extended PIN query
Kiosk mode
---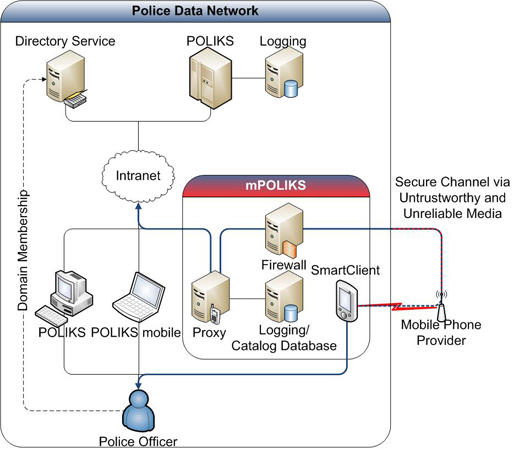 Figure 1: Components of mPOLIKS
---
Common User Interface
Implementation of semantic input fields
Input

field

position

reflect

s

query priority
 
Integration of additional systems is straightforward
Input Support
Catalog-based fields

Autocomplete

 

for particular input fields

On-the-fly validation
Verification of input combinations
Advantages for Police Officers
Increased self-protection

Enhanced availability of information
Manhunt overview and tactical hints
Decreasing error rate during information flow
High acceptance due to easy user interface
Advantages for Citizens
Time consuming identity check at police post can be omitted
Increased safety
Costs
Cheap commodity hardware
No special hardware required
New Scenarios
Press Center
---
Press Releases
FU Berlin, July 2009: Mobiler Zugriff auf das polizeiliche Fahndungssystem [HTML]
Press Reviews
Contact:
Nico Wanner