WerteRadar - Donating health data with sovereignty
Funding:
Federal Ministry of Education and Research (BMBF) [grant 16SV8463]
Term:
Jul 01, 2020 — Jun 30, 2023
Contact Person:
Prof. Dr. Claudia Müller-Birn
In hospitals, the administrative admissions of new patients often take place under time pressure. Consequently, the data donation process receives little attention; patients have neither the time nor the necessary psychological freedom to make their decision in an informed and reflective manner. The administrative admission process itself usually takes place with staff who is unable to provide any or only little further information on data security and protection.
In the interdisciplinary research project WerteRadar, we collaborate with experts from security research, media education, and medicine to re-conceptualize data donations by focusing on sovereignty. For this purpose, we differentiate receptive data competence and sovereign reception competence. The former can mainly be supported technically, while the latter enables patients to make sovereign decisions about donating their data. This differentiation includes not only the ability to make individual decisions about data donation but refers also to the social situation of data donation.
We develop interactive software - the WerteRadar - in a participatory design process and separate the conventional process of data donation into the steps: reflection, exploration, interpretation. Based on the envisioned interaction design, patients can make an informed decision regarding their data donations and reflect on their values. The methodological approach of value-sensitive design allows us to develop our software with prospective users and implement and evaluate it in the clinical context.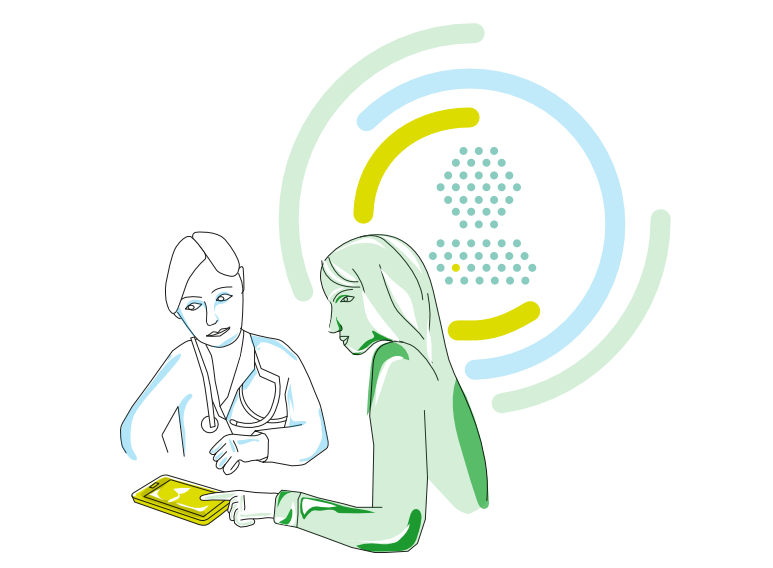 Partners
Scientific network partners
Application-oriented network partners
Associated partners
Keywords
Data Privacy
Data Transfer
Recommendation System
Reflective Technologies
Value-sensitive Design