OpenMS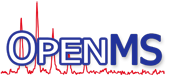 OpenMS - A C++ library for MS based Proteomics analysis
The OpenMS library is intended to provide a flexible framework for the differential analysis of HPLC/MS data. OpenMS offers algorithms for peak picking, protein ID, labeled and label-free quantitation. OpenMS has been and is being used in several BMBF and EU projects.
OpenMS - An open-source framework for mass spectrometry
OpenMS is an open-source software C++ library for LC/MS data management and analyses. It offers an infrastructure for the development of mass spectrometry related software.
OpenMS will be compatible with the upcoming Proteomics Standard Initiative (PSI) formats for MS data. We also try hard to keep up to date with code documentation and making it easy to use OpenMS.
For more information please visit our project site http://www.openms.de.